Welcome...
David and Linda Wheeler welcome you to Ripplethorpe Flatcoats. We are a family of four children, six grandchildren and a varying number of wonderful flatcoats both young and old.
We live close to the historic city of Norwich in glorious farmland where we run our family business.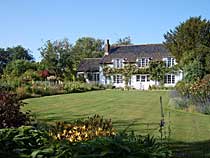 Our home near Norwich
David is the leader of the flatcoats and Linda is the leader of the family. Each of us have different views as to priorities and both of us have to compromise.
Consistency and stability is our family basis and we warmly welcome those interested in owning or learning about flatcoated retrievers. Our care and responsibility for all our flatcoats is well documented and we can assure you of all year round support for your flatcoat from birth to death.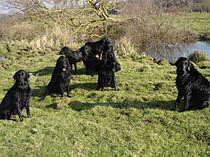 We are Kennel Club Accredited Breeders. To view our certificate please click here >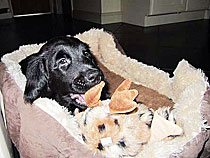 A happy pup!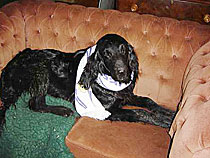 After the match!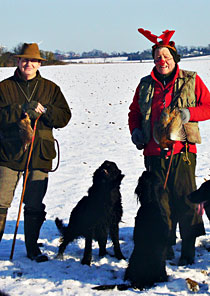 Christmas week 2009

Latest News
Xmas 2010 Litter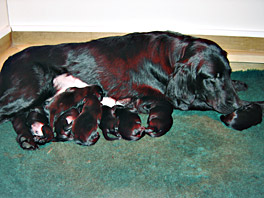 Mum, Blaize, and her pups at two days old
Congratulations to Mum, our Blaize (Ripplethorpe Hussey) and to Dad, Dram, (Hullabaloo Single Malt).
In the freezing arctic conditions of Norfolk, nine beautiful black pups were born - six girls and 3 boys, all strong and healthy and quick to appreciate mother's milk.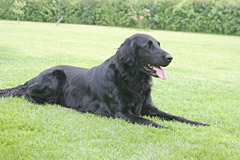 Dad, Dram, (Hullabaloo Single Malt)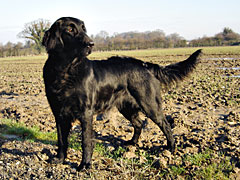 Blaize (Ripplethorpe Hussey)
These Christmas Crackers will be looking for a new comfortable home in mid February, except one of the girls who will stay at the Ripplethorpe Academy for training.
Mum is 4 years old, her first litter, daughter of both our dogs "Nel" (Ripplethorpe Caol ila) and Tenn (Wemdom Flashs Boy at Ripplethorpe). She is a brilliant working dog with special qualities, never complains, always smiling, loves being part of the Team and family and is at the moment attending to her pups with adoration, care and loving attention as we look forward to a busy and exciting Xmas.
2010 -2011: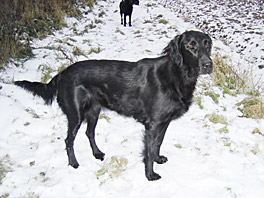 Jade, aged 20 months
The Spring and Summer was an enjoyable time as most of my time was spent training our young Jade, born March 2009.
The weather was kind and Jade was a quick learner with a wonderful temperament, full of fun, strong and agile and an exceptional nose. She was an exemplary student with talent. She was introduced to the shooting field in early October, not to work, but to shoot over, which she accomplished with ease, sitting there just observing the game falling, a cock bird running, other dogs fetching and carrying and the general hubbub of each drive.
In November she was given the opportunity to retrieve and once again showed natural ability on, Pigeon, Partridge, Woodcock, Pheasant and Fur.
In December in the company of "Manna" our 3 year old prodigy she was given the opportunity to work and I was astounded as she quartered perfectly to the whistle over open land looking for blind retrieves which she located with ease, thanks to her incredible scenting ability. For the remainder of the season it will be the odd day out for Jade, consolidating all that she has learned so far and then next year gently easing her into the full Team scenario.
The 2010-2011 Season
This started with our regular trip to the Grouse Moors of Arkangarth Dale in North Yorks for the Glorious Twelfth where once again the Grouse were in abundance. Our trip was a shorter one than usual, but still exhilarating, as we had other family commitments in September. The Partridge season started in late September and despite the weather the Team were brilliant. Late October saw the Pheasant season amalgamate with the Partridge & Duck, the Team were now working flat out sometimes 6 days a week. In mid November we noticed the arrival of the migrating Woodcock which was early and foreboding of the weather following these unique birds. So the Siberian weather arrived, most of Britain stopped and the Team and I continued to enjoy our work out on the frozen landscape of Norfolk with the icy wind finding every conceivable gap in my thick and thermal garments, testing both my and the Team's resolve.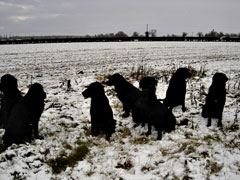 The only solace was the comforting thought of returning home to a hot meal, a warm fire and warm bed. We are now preparing for our family Xmas celebrations with our 4 children, 6 grandchildren and of course Blaize, the Pups and our other six Flatcoats.
We wish everyone a very happy and joyous Xmas along with a healthy and prosperous 2011.