News Archive
Litter of 2009
Last year's litter were all successfully dispatched, except our "Jade" who joined the Ripplethorpe training academy. Jade is now almost one year old and has the makings of a real star. She is certainly a favourite with her team mates and for me shows all the right qualities for success.
Jade`s introduction to the
Ripplethorpe Academy at 8 weeks old >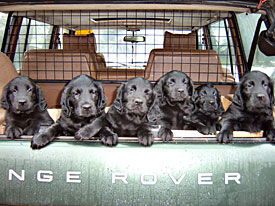 "Bye bye Jade,
time to say cheerio"
2009 -2010:
Last Spring & Summer saw wonderful weather, very good for training and outside dog activities. "Rhea", one of our young hopefuls, did not quite meet her full potential and moved to our eldest son, Jonathan`s home, where she soon settled in to the comforts and enjoyment of his 3 children. Rhea continued to join the Team on several occasions Picking Up as well as accompanying Jonathan on his shoot days.
The 2009-2010 Season
August 12th soon arrived as did we on the Yorkshire Moors and although the weather was an improvement on the previous year, we were stuck in the wet trough while the rest of England basked in the heat wave.
One unforgettable (rest) day we visited the highest Inn in England, the rain aided by the strong wind was horizontally torrential, the sheep lay in the porch of the Inn and inside I enjoyed a hot coffee over a blazing log fire. I phoned home where, relaxing in a deck, chair Linda uttered her disbelief!!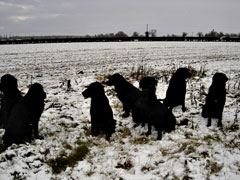 Returning home, the Partridge season soon was underway, quickly followed by many terrific Pheasant days. The season was very successful for the Team, who in many of the observers' eyes just got better and better; the compliments about their working ability makes all the dedicated work time spent with them so rewarding and reassuring — particularly during the latter part when I stood in the snow hounded by the biting wind.
Future Litters
As I will be concentrating on training young "Jade" this Spring & Summer we do not intend to breed again until the end of the year or early next year and the two candidates are: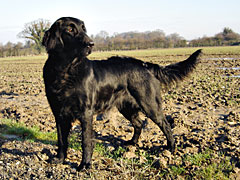 "Blaize"
(Ripplethorpe Hussey - born 6th April 2006 - sired by our "Nel" (Ripplethorpe Caol ila) and our "Tenn" (Wemdom Flashs Boy at Ripplethorpe)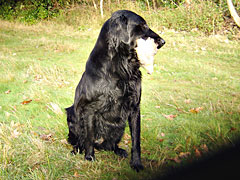 "Manna" (Ripplethorpe Manna Ash -born 12th April 2007- sired by our "Nel" and "Brook"(Lewcombe Cedar of Cannimore)


If you are thinking of a puppy, then please contact us sooner than later as we already have several enquiries and a waiting list.
As we approach Spring we wish everyone a happy, healthy and successful year with a repeat of last year's weather to refresh us all ready for the 2010-2011 season.
Linda, David, Nel, Bessie, Tenn, Paige, Skye, Blaize, Manna and Jade
P.S. "We all know we are the tops and we never cease to be amazed how much our Leader improves each year. (Like fine wine maturity comes with age) — Nel & The Team"