Ripplethorpe Breed Line
Click here to view the Ripplethorpe Breed Line >

---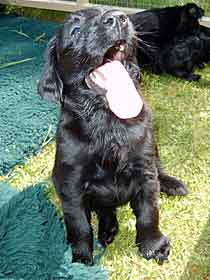 "I'm just the greatest!"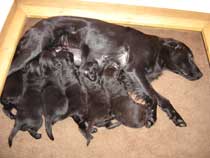 Family meal time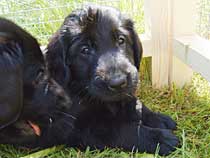 "I'm the quiet one"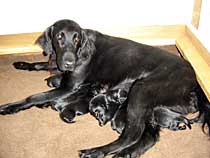 "Don't worry - they're fine"
Breeding...
Our breeding is occasional, not intense, and is usually because we need a new addition to our team. Our requirements are for both the sire and dam to be Kennel Club registered, scored low hip scores, good elbows, passed eye tests with gonioscopy to be healthy, good natured, intelligent and able.
Our dogs are bred at home in close proximity to our everyday life with 24 hour attendance and close veterinary support and advice.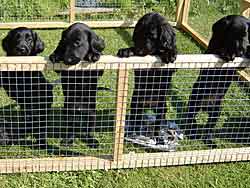 "Can we join in please... "
From covering the dam she is scanned by the vet at 5 weeks for confirmation of pups and both her and the pups' health. At 5 weeks she is wormed daily until four days after she whelps. The dam's food supplement is increased and her basic biscuit diet is Hill's Science diet. At 7 weeks she is introduced to our whelping room which is individually prepared to ensure it is warm, comfortable, clean, draft-proof and secure whilst being accessible to us at all times both by sound and close proximity. When in labour we are "hands-on" 24 hours. The first few days are critical and tiring but wonderful when all are feeding, warm and comfortable.
Our pups, like mum, are introduced to Hill's puppy food at the appropriate time with a dried milk supplement. They are wormed every two weeks until their departure at eight weeks. Prior to the pups departure they are checked by our vet for their medical condition in order that we can be satisfied of our obligations to the new owner.
All pups are sold on recommended Kennel Club conditions, with free six weeks insurance, food packs, advice and information sheets, a sales contract, and from the age of eight weeks.
Our bitches are bred, subject to their suitability, and between the ages of 3 and 7, and in that time have one or two litters only.

Our aim is to offer the best pup we can breed.
Our responsibility is first to the pup and then the new owner.
Our assurance is the care we take and the ongoing assistance should you need it and whenever you need it.